Are there any discounts or promotions to use when buying the Cricket Android Sanyo Zio?
Sponsors:
On this page I'll list a couple Cricket Android smartphone discounts and promotions that Cricket offers to some customers. I'll also show you an easy way to bring the price of that Cricket smartphone down a little more. Use these methods to save some money when purchasing an Android phone from Cricket Wireless.


Saving a few dollars on this much anticipated Android touch screen phone is possible because Cricket Communications is always offering some type of discount or promotion.


There aren't very many discounts for the Cricket Android phone when compared to the amount of discounts that are available on some of the other Cricket phones. The lack of discounts and promotions on Cricket's Android phone is to be expected so saving an extra $20 on the price of the phone is a win.



Cricket Android Smartphone web-only discount promotion
This first Cricket smartphone promotion is the "web-only" discount that saves you $20 instantly. At the time of this writing, anyone who orders the Cricket Android Smartphone online at the official Cricket website is eligible for this discount.


Getting this discount is simple because the only requirement is for you to purchase the phone at their website. There is no Cricket Wireless promo code that you have to enter and there is no mail-in rebate form to deal with. The price of the Cricket Sanyo Zio will show a "Web-Only Discount" of -$20.00 automatically.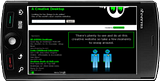 Your timing will be the biggest factor in determining the availability of this "web-only" Cricket phone discount. As with all technology, the longer you wait, the cheaper the technology becomes.
Cricket Wireless phone customer, "Win-Back" promotion
Cricket Wireless has what they call a "Win-Back" promotion that they offer to some of their customers. If you once had Cricket phone service and have since let your account go dormant, you could be one of the lucky Cricket customers who is offered this promotional discount.


The discount is for a free month of Cricket Wireless phone service plus the removal of any past due fees or charges. There is nothing you have to pay out of your own pocket. Simply walk into a Cricket store and walk out with a free month of service.


Here's how the promotion works and how you could use it to make the price of the Android phone from Cricket Wireless a little cheaper.

1. Be a Cricket phone customer
2. Let your service expire
3. Check mail box for the "Win-Back" postcard
4. Bring phone and card to a Cricket store
5. Walk out with a free month of service


That could be $50.00 off your Android Cricket phone if you receive this Cricket Communications postcard in the mail. I'm not sure of the exact mailing dates for these promotional postcards. What I can say is some customers received them 2 months before the Cricket Wireless Sanyo Zio came out.


Cricket Sanyo Zio discount - Sell old device first
One way of getting a discount on the Cricket Android smartphone is by selling your old device online. There are a few websites that will buy your mobile device from you and these sites make the process very simple.


Use the money you get from selling your older phone towards the purchase of the Cricket Sanyo Zio. Of course this won't be an instant discount but in the long run the total price you pay for Cricket's first smartphone will be lower.
Sell unwanted device to discount the price of a new Cricket Android phone
Check out Gazelle.com for starters. This site buys old mobile devices from people and they will send you a box and pay for shipping charges.


You can easily find out how much your unwanted Cricket phone or other phone is worth, or in this case, calculate how much of a discount you can get towards your Cricket Android smartphone.
Cricket phone information and help pages


Faster Cricket Broadband modem speed
Cricket Broadband modem installation CD
About downloading free Cricket phone games
Cricket Broadband bandwidth caps and usage
Free wallpapers Cricket Samsung Messager phone
How to download Cricket cell phone ringtones for free
Cricket Android smartphone discounts and promotions
Information about Cricket phones and broadband modems
Pricing information for Cricket Broadband Internet and modem
Configuring Cricket Broadband Internet modem speed settings
Web browser tips and tricks to use on Cricket Samsung phones
How to use your Cricket Samsung phone as an Internet modem - part 1
How to use your Cricket Samsung phone as an Internet modem - part 2
Top of Page