40 Easy pumpkin carving templates and patterns for free
Halloween pumpkin carving templates, stencils, and patterns
Sponsored links: Sponsored links:

On Halloween, carving a pumpkin from a scary pattern or template has always been one of the best parts of the Halloween holiday if you ask me. The hard part is finding an easy pumpkin carving pattern or template that is not only free, but also simple to use without being too boring. This page contains 40 different pumpkin carving templates, stencils, and patterns that are somewhat simple and easy to complete when compared to most other pumpkin carving templates and patterns.

All Halloween pumpkin carving patterns shown on this page are free for you to download, print, and share with others. If you feel the need to modify any of these easy pumpkin carving patterns, you're more than welcomed to do so. Majority of these pumpkin carving templates are Halloween themed. There are a number of patterns of faces, mean faces, and even a few funny faces. In addition to the original Halloween pumpkin carving patterns, there are also a few bat and cat templates plus a few pumpkin carving stencils that are not Halloween themed, but still make for an interesting carved pumpkin.

Printing and saving these easy pumpkin carving designs
To view the original size of any pumpkin carving pattern on this page, click on the carving pattern you want to open and the image will open up in a new window. Next, you'll want to click on the pumpkin carving design again to zoom in. Now that you're viewing the original sized Halloween pumpkin carving template, right-hand click anywhere on the pumpkin pattern and select "Save image as...." to save to your computer. Most of these Halloween pumpkin carving templates will print at different sizes. The smaller the template, the easier it will be for you to carve out on a pumpkin. If you want to increase the size of your pumpkin carving pattern, just go into your print settings and increase the size of your printed carving pattern.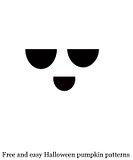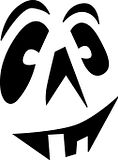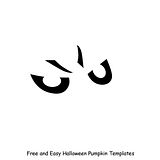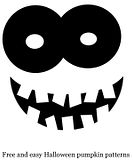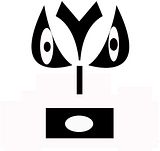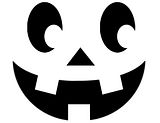 How to make a pumpkin pattern easy to carve
If even the easiest pumpkin carving template shown on this page is still not easy enough for you or your children's taste, you could always draw in the pumpkin template design instead of carving it. Start by playing connect-the-dots using the borders of the pumpkin design template until you have a defined outline of your template. Using a simple Sharpie, color in the carving design until complete using color for a unique finish to your carved pumpkin.

Hopefully, at least one of these easy Halloween pumpkin carving patterns caught your eye or at the very least, gave you an idea as to a new Halloween pumpkin carving pattern that is more to your taste. The important thing to remember is that the bigger your pumpkin is, the harder it will be to actually carve out your desired Halloween pumpkin pattern. If you want my opinion, I think the arrow will be the easiest pumpkin carving template for me this year. Happy Halloween.
GoTo page 2 - Free & easy pumpkin carving designs
Pumpkin Nook
Pumpkin-Patch
Halloween Online
Haunted House Finder
Wikipedia pumpkin page
---
Sponsored links:



Thanks for visiting the easy pumpkin carving patterns and templates page.