Have fun playing the boxing game Iron Mike Tyson's Punch Out here at this website. Are you searching for something fun to do while online? Have fun playing this boxing game called Iron Mike Tyson's Punch Out? This classic arcade game is a great way to pass the time and an even better way for those of us who played this game in the quarter arcade to bring back some past memories.

Iron Mike Tyson's Punch Out!! is basically a trimmed version of the NES version of the original Mike Tyson's Punch Out!! Instead of boxing as Little Mac, you fight as the "challenger", which is a wire-framed transparent character. You have the ability to throw left and right jabs, left and right body blows, and a swift powerful uppercuts.
Iron Mike Tyson's Punchout game play instructions
Mike Tyson's Punch Out is super easy to learn and play. For best results, read the directions before you begin playing this online boxing game or even better, write them down before you step into the ring with Mike Tyson. Have fun playing the world's best boxing game.
This version of the classic boxing game only requires you to defeat 2 opponents in order to get a shot at Iron Mike himself. If you're still trying to find fun things to do online while bored, you can play this Punch Out boxing game for free as many times as you'd like.

(Submit to StumbleUpon and Twitter)

Want to share Iron Mike Tyson's Punch Out with others?

Simply copy and paste the code below onto your blog or website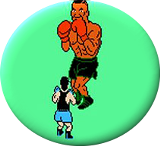 Code will create this clickable thumbnail which will link back to this boxing game.

Play Iron Mike Tyson's boxing game free online here at this web site!
---