Why you shouldn't leave your home page without WOT
Sponsors:
Web of Trust (WOT) is the world's best security add-on (that's free) for one important reason, it reveals online threats that are practically everywhere you go online. If you're not using this rock solid security add-on already, check out the screen shots below and then come join our powerful community of 6 million members.


WOT is a small web browser add-on that works with Mozilla Firefox on any operating system or Internet Explorer 6 and 7 running Microsoft Windows. There is never any charge for WOT, it's completely free forever. Best of all, Web of Trust runs lightning fast, in fact it's so fast that you WILL NOT be able to tell a difference.


ACreativeDesktop supports the WOT community
With just a few million soldiers, the Web of Trust community has been making the Internet a safer place for years now.

The screen shots you are about to see highlight the WOT security add-on and how it works.
WOT protects 6 million people simply by warning
them of online threats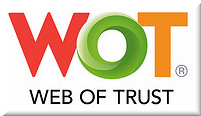 Inside the Press section at WOT, I found these facts about Internet security and thought you might like to see them also. Both



Financial services continued to be the most targeted industry sector at 92.4 percent of all attacks in the month of January 2008, according to the APWG.
Panda Security reports that about 90 percent of all corporate email is spam, with an additional 1.11 percent containing actual malware.
Websense predicts that we will see more than 80 percent of all malicious content hosted on sites with 'good' reputations in 2009.
WOT rings are a color rating system that show
the threat level of a website
Using Web of Trust is easy and requires no effort on your part unless you choose to add a comment or submit ratings for a website. The colored WOT rings are a color rating system that shows the threat level of a website. As you can see, green is the best and red is the worst while gray means unrated.
WOT displays a colored ring after links in most search engine result pages, certain email services, and many other websites on the Internet.
WOT protects you when using search engines so you can focus on your task at hand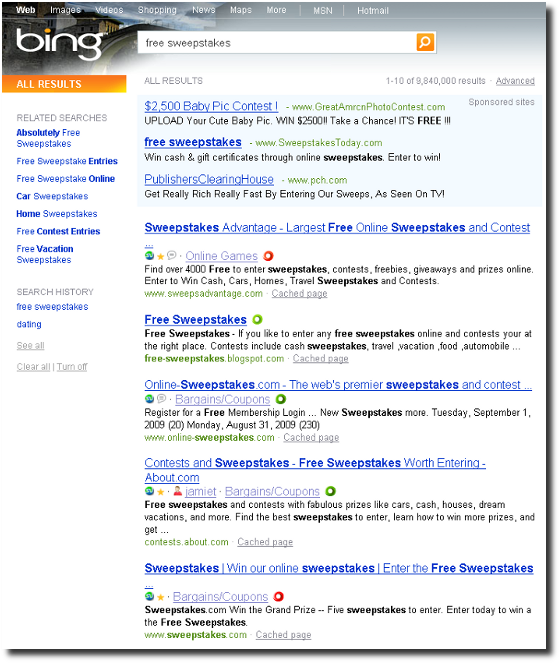 The image above was captured while using the Bing search engine and shows a couple poorly rated websites mixed in with the sites that have been labeled as "good". Sometimes, almost every search returns at least one website carrying a red or orange rating.
Top of Page
How long have you been searching without
The Web of Trust?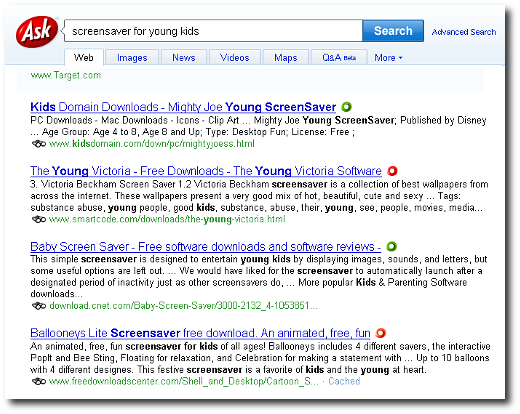 Looking at the picture above reminds me of the time my elderly neighbor came to me for computer help. She had searched for a security program online using a search engine and clicked on one of the results. She ended up paying $50 on a rouge program that caused so much more harm than good. She had no idea of anything and was completely frozen when I told her the truth.




She now has WOT installed and has no problems because she understands the rating system. Unfortunately, she doesn't do any rating herself, but when she added a second computer to her home, she called and asked if I would come over and install the "little green rings".
Every website has a WOT scorecard containing
ratings and comments.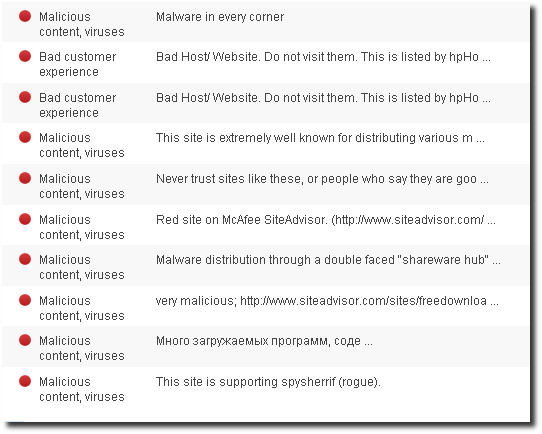 This is the WOT scorecard for the last search result in the picture directly above. Every web site that gets rated has a WOT scorecard. The scorecard shows the comments and category ratings that visitors have submitted. It looks like this one is unanimous.
Top of Page
Malicious threats are sprinkled throughout the Internet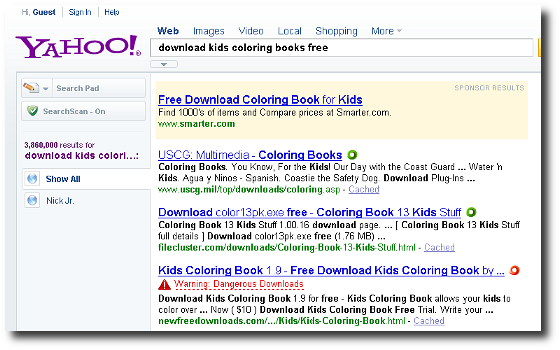 This picture was added because it shows both Yahoo and WOT saying that the link is dangerous.
Using WOT in addition having updated Internet security software can drastically decrease the chances of your computer becoming infected or you getting scammed online.
To see why a website was given a certain rating, click on the
WOT rating symbol to open the scorecard.
What kind of rating does your website have from the Web of Trust community?
The WOT loves to see what you got in Gmail!
There are places where WOT can't go, but your Gmail inbox isn't one of them. After installing Web of Trust, log in into your Gmail account and WOT will follow you in.
If you accidentally click on a poorly rated website...
This is your backup parachute!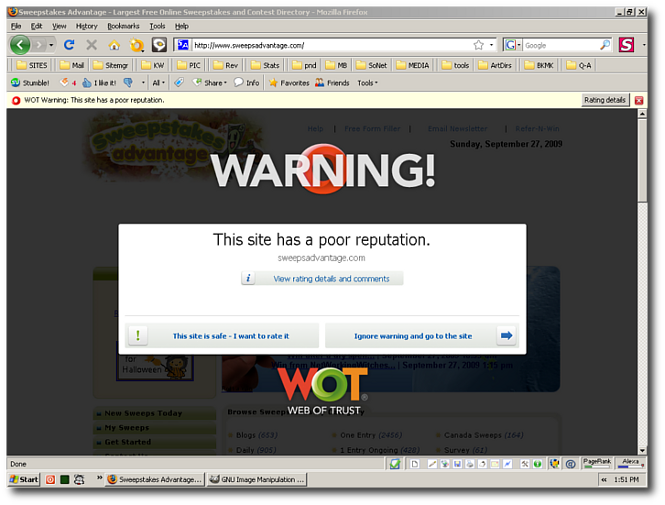 As an extra precaution, if you click on a site with a red rating or manually key in a site that's rated poorly, you will encounter a splash screen warning you of the possible danger awaiting you.


After installing updated browsers, WOT is the first add-on that I install on each and every installation.
Top of Page
ACD - Home Page | ACD - Blog | Geographic Location Game | Vault Forums